OUR BRANDS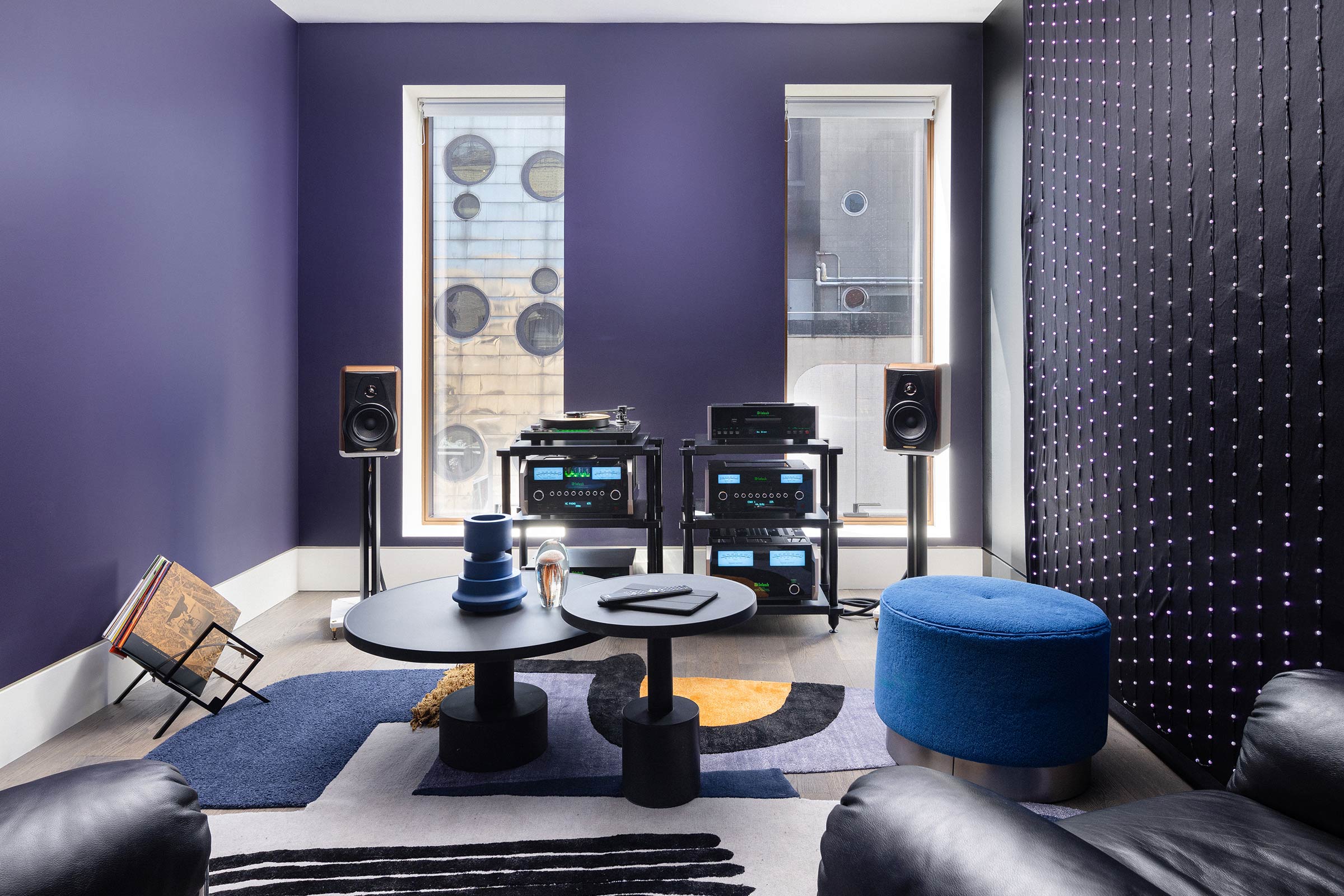 OUR BRANDS
McIntosh Laboratory is the premier designer and manufacturer of high-fidelity audio equipment. Founded in 1949, McIntosh products are handcrafted by experts passionate about creating an unmatched sonic experience. From its factory in Binghamton, NY to all corners of the world, McIntosh blue meters have become a symbol of quality audio and continue to own the premiere position in home audio entertainment for discerning listeners. Powering events like President Lyndon Johnson's inauguration speech, world-renowned concert systems like Woodstock, the Grateful Dead's Wall of Sound and Despacio, McIntosh has shaped some of the most important moments in music and culture. McIntosh gives music enthusiasts the power to create their ultimate sound experience.
Visit www.mcintoshlabs.com to learn more.
Sonus faber is a designer and manufacturer of high-end audio technology, founded in 1983 in Italy's Veneto region, world-renowned for luxury goods manufacturing. Latin for "Artisan of Sound", Sonus faber infuses state-of-the-art audio engineering with the traditions of Italian design. Sonus faber speakers are hand-produced with design cues inspired by musical instruments, crafted from organic materials such as wood and leather. Marrying the artisanal beauty of the past with the technology of the future, Sonus faber audio systems deliver natural, immersive, three-dimensional sound from beautiful speakers built to last for decades.
Visit www.sonusfaber.com to learn more.
Rotel audio products are known worldwide for their quality, reliability, value, and, above all, exceptional sound reproduction. Family owned since 1961, Rotel has utilized the resources of its formidable international design team and has manufactured products in its own sophisticated production facilities. Rotel proudly offers a complete range of electronics that have consistently received critical acclaim and coveted industry awards.
Visit www.rotel.com to learn more.
Pro-Ject Audio Systems was founded by one of Austria's leading high-end audio distributors, Heinz Lichtenegger, in 1991. A genuine music lover and a dyed-in-the-wool audiophile, Heinz challenged the common "cost-no-object" approach to analog audio equipment by manufacturing turntables, tonearms, and accessories at a reasonable price without compromising build quality or sonic performance. With his passion for high-end audio fueling a desire to take a familiar industry in a new direction, Heinz proceeded to use Pro-Ject Audio Systems as a locomotive to bring high-end gear to the masses. The engineers at Pro-Ject have redefined what is possible in high-end audio and proven that great things do come in small packages.
Visit www.pro-jectusa.com to learn more.
Sumiko: Since the production of the first Sumiko cartridge in 1982, Sumiko has been focused on creating phono cartridges that combine state of the art technical performance with the practical requirements of superb tracking and a musical, non-fatiguing, sonic presentation. All Sumiko Cartridges are hand-built in Japan by skilled artisans to excel at the reproduction of analog music.
Visit www.sumikophonocartridges.com to learn more.
Share post: